Want more information about availability or to book a holiday with us a few metres from the sea?
In the inland areas around Lacona there are 50 km of footpaths (main paths) through garigue, Mediterranean scrub and woodlands. Hundreds of kilometres of footpaths cross the entire island.
For those interested in guided excursions into the inland areas, Elba offers many specially trained Environmental Guides, who have an extensive knowledge of the territory rich in nature.

The best times for excursions are from March to early June (for the spectacular flowering period) and September/October (when fruit turns ripe and nature comes back to life after the hot Summer months).
On excursions in the inland areas you can see many typical Mediterranean plants.
With its almost
1.500 species of plant life
, the Island of Elba is one of the richest Italian regions as regards biodiversity. In Spring and Autumn, the dunes, the plains and the inland mountains offer a spectacular choice of colours. The plant life is rich and varied, thanks to a wide variety of surroundings, including the rocky and sandy coastal areas (Lacona has a well-conserved complex of dunes), the lowlands, riverbanks, the shaded valleys and the mountain peaks, the highest of which, at 1018 m, is Mount Capanne, a true natural sanctuary rich in endemisms.
Excursions available directly from the Laconella Campsite
To the left of the campsite is Capo di Fonza, which can be visited on foot or by mountainbike. The numerous footpaths lead into a totally unspoiled natural environment, where walkers can observe the local plants and animals. The topmost point offers a spectacular view of the three seas of Porto Azzurro, Capoliveri and Campo nell'Elba. You can also see the islands of Giglio, Montecristo and Pianosa, as well as the mainland. One of the footpaths takes you right down to Marina di Campo.

Other walks around Lacona
To the north you can walk along the paths around the Monte San Martinovalleys of Caubbio, Pero, Mulino a Vento (with the added possibility of visiting Napoleon's villa) and Mount Orello. The provincial road connecting Lacona to the centre of the Island is also on the north.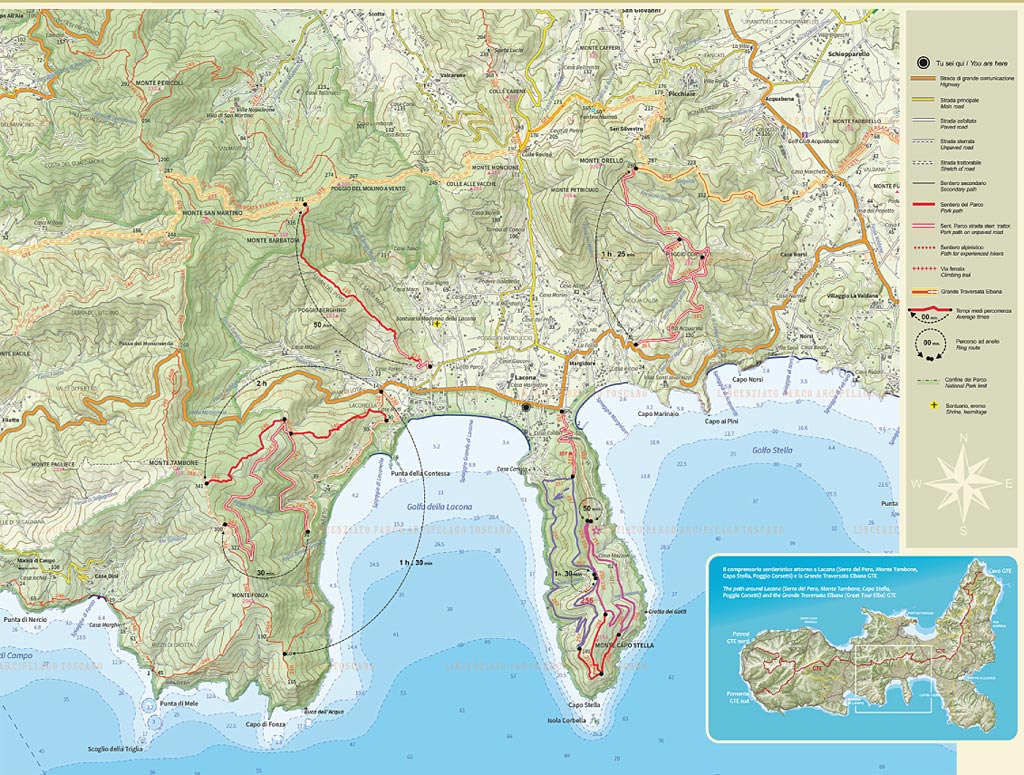 The small photos below are only a very small example of plants that can be seen on excursions in the inland areas around Lacona in Spring and Autumn. All the photos were taken at Lacona: orchids, dune plants, typical plants of the Mediterranean scrub and some of the flowers that can be seen in the mountains and occasionally also in the lowland areas.